ADVENTURES > BURMESE WINTER WONDERLAND (1)
Three years ago my first Burmese cat entered my house and life and with her, I received a breed description. I don't know who wrote it, but I do know it's written with a large dose of humor. That you need that humor as a house mate, I now know too. If you didn't have that humor, you wouldn't enjoy him/her as much.

In the breed description there is a piece, that is very typical for the Burmese:
"They cherish themselves, like most cats, in warmth and preferably lay down in sunshine, on a warm lap, in someone's neck and if no one is available, on the radiator, enduring temperatures beyond possibility." Anyone with a Burmese as a house mate can, without any doubt, agree.

Then why tell you this, you wonder. Quite simple. This quote pops up in my mind every time my cats nag to be let out into the garden, regardless the weather. In all fairness I must admit that my oldest Burmese can read and write. Her first months here, she even kept a diary. She also knows the quote above.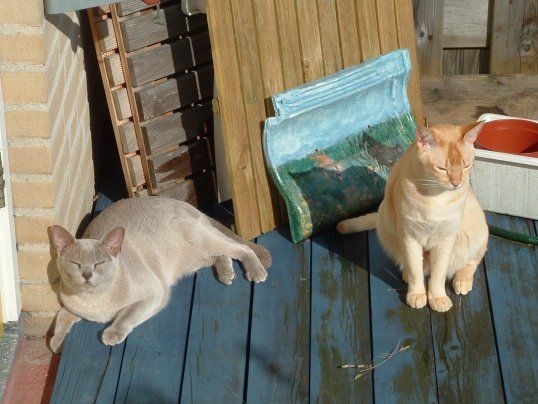 She loves to lay on my lap, but if there is a blanket over my legs, she prefers to crawl under it. At night I don't need central heating or an electric blanket, often there's a warm water bottle with fur coat curled up against me. Often enough there are two.
In the morning my cats scramble by the window. It doesn't matter if I tell them it's cold or raining or the wind is blowing firmly. I mustn't be a bore. Open the window! When I do, a waterfall of cats streams out. They all want to get out at the same time to sniff up the fresh air and to explore. All, except for one Burmese.
Zohra is sitting against the wall opposite of the window with a face that's horrified with the thought of having to go outside. Can't that window be closed? Is this really necessary? Absolute Burmese.
It's early March and the whole of The Netherlands are covered by snow. There's hardly any wind, the sun is shining and the temperature is just above freezing. All the cats, including the Burmese, are outside. After breakfast Zohra ventures on the windowsill, on the outside to be exact. She sees the white world and seriously doubts if this is a healthy environment for her. She looks at the whims of the other cats. Then she discovers that she can get to the duck boards with a minimum of effort. Once – two times at the most – she will need to put her delicate paws in that white mess and then she'll be there. The duck boards warm up easily, even in the watery winter sun, and you sit or lay out of the wind. There she lays herself down and leaves things as they are.
How different is the Burmese that arrived a year and a half after Zohra: Robbyn. He can read a little and refuses to write. Much to regret of the breeder and myself: no diary from this guy. It's too much trouble and too much time. Time rather spent playing and with other nice activities.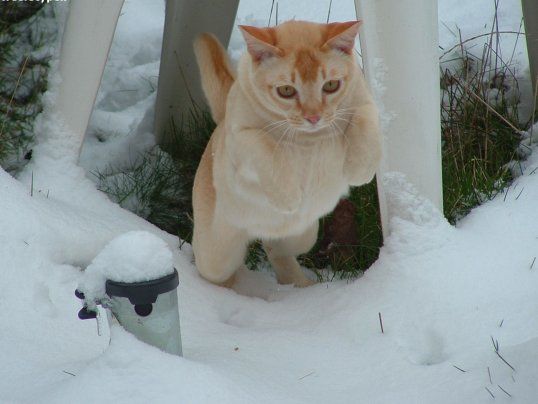 Whatever the weather, he is often the first to hustle by the window and complaining the loudest that it's closed, very much against his wishes. Wet of muddy paws, a drenched coat or a thick layer of snow, none of that matters to him. He wants to explore every shrub, jump on the garbage bin, climb on the fence to see what the neighbors are doing, lurk by the garden gate at the neighbors dog. If all that's done, he creeps up on his house mates, knocks them over and climbs up my clothes to wipe his dirty paws.
While Zohra enjoys the sun, the others explore the garden and the snow. It seems harmless, although it might stick between your toes. I can't draw any other conclusion then that they are enjoying themselves. Who would have thought? The warmth loving Burmese that also enjoys the snow.