ADVENTURES > DÉJÀ VU
Just before Mirre's kittens would leave, Phèdre showed a phantom pregnancy. She'd love for all the children to be stuffed in the hammock with her and woe to anyone who dared to protest! She wanted them all as close as possible to her. But hey, the kittens were big enough to move. So one after another packed his bags and was driven by car to his new residence and personnel. Thus, our home became emptier and quieter and Phèdre's phantom pregnancy disappeared.

After some time she was in heat again: roaring for a guy and rolling on the ground she made the boys half crazy. Djavi let it be for a bit, so Robbyn could observe all honors. He didn't have to be told twice and went his way. After that period followed another one and so it was time to plan a trip to a lovely stud. Already at the age of eight weeks old we had agreed that she would go to Acke. The combination of a beautiful cream girl with an equally beautiful red boy looked very appealing to us.
Since that red guy lives in Drenthe and Phèdre in Brabant a small "world trip" was needed to bring both of them together. Because it's such a long drive and I'm not able to perform to go there and back again in on night, planning proved to be very important. So when the first signs of being in heat presented itself on Friday, I immediately phoned up and we agreed that I would bring her the next day. The weather was perfect behind the windscreen of the car, outside was an unpleasant fresh breeze. But it was dry and the sun shone. With good spirits, we went on our way and after two hours we arrived.
Phèdre was quickly brought to the residence of Acke, who received her enthusiastically. For security reasons we held the young lady behind a closed door. After a while I went to see how they were doing. Acke was very pleased with his company, but Phèdre wasn't so sure. So I opened the door so she could come out and stretch her legs. That didn't fall on deaf ears. She came out of the cage and quickly went to investigate.
From the corners of her eyes she held an eye on Acke and if he came near, she hissed at him. After each snap and gray she made Acke made a getaway. He rather watched from afar and said sweet things to her, then risk a scratch on his nose and so spoil the relationship.
Luckily there was a bed ready for me, so after a pleasant evening I could crawl under the covers and I didn't immediately have to drive back. After a good nights rest and having breakfast, I went to take another look at the fledgling couple.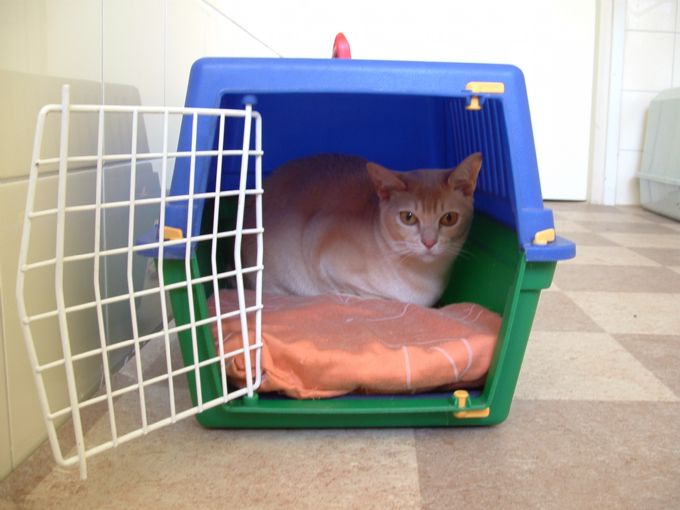 Obviously I had not seen what they had been up to at night, but when I entered Phèdre was hiding in her cage. Acke ran around in circles, meanwhile telling her all sorts of things. As the sun shined so nicely, I removed Phèdre from the cage and put her on the windowsill. Acke thought that was a good move. She thought less of it and wailed and blew every time Acke showed his nose. After just having stretched her legs, she pulled herself back into the cage. Before I went back home, Phèdre's rest was "cruel" disrupted, by lovingly but inexorably removing her out from the cage. If you want to develop a romantic relationship, you should not continue to hide. The cage was removed and she just had to deal with it.
I caught the journey home in the expectation that she would have to get back into heat. Such a trip on the first real day of her period would surely not be conducive. She would be staying for a few weeks. With a little luck she would already be back into heat in one week. She could quietly get used to Acke and become friends with him before they would get together amorously. Then the only thing left to do was to get the camera working, so that some things could be established without any doubt. The trip back was sunny and pleasant, though I was glad I was back home. There waited the cat gang for breakfast and clean litter trays. They received both and then began the "great waiting".
In a few days the two "lovers" had become tight and lay together in a basket. There were no signs of being in heat or a mating. The couple thought things were okay as they were. Where had I heard that before? Frankly it looked a bit like the stories of a year and a half ago, when Mirre went to Muppet. They also had it very cozy and lay in a basket. Ultimately beautiful kittens arrived, one of which was Phèdre.
As expected after a week Phèdre seemed to be back into heat and at one point she had scratches on her neck. Then her behavior became less obvious. Conclusion: she had been mated and could come home. After 3 weeks absence she was glad to see me and she and Acke came for one hug after another. That the travel cage was reappearing, both found unpleasant. And certainly when it turned out that I would only take Phèdre and Acke would remain alone.
At home I wiped the young lady with a cloth with alcohol to remove some of Acke's aftershave. Because the weather was nice the window was open and the cats enjoyed home and garden. Phèdre had no time for that. She consecutive studied the house and garden for hours and stood calling and scratching by the bathroom door (the cage was still there). Did she want to know if she returned home or was she looking for Acke? Late in the evening she fell asleep on my lap, apparently finally home.
In about two weeks I should be able to see if she was pregnant by her growing nipples coloring dark pink. I had to keep a close eye, because unfortunately the camera was still out of action during her stay. When I saw her lying on her back after four days, I got quite a shock: all her nipples were clearly visible and deep pink. How could that be? The next day I looked again and yes, they were clearly still colored. So she was pregnant, but how long already? And when had she been mated? How could she still get in heat again?
Checks with several breeders taught me that it is indeed possible that a cat seems to get back in heat following a mating, especially if it had occurred early in the period. That was one mystery solved. That left the question about how long she had been pregnant. After much thought and counting days I was left with a "hole in time" of about 5 days. In itself not bad, but it doesn't come in very handy when making plans.
So then I called the vet and asked if he was able to estimate how long she was pregnant by making an ultrasound scan. He thought it possible. So we made an appointment, at which we had to be sure that she was pregnant for at least 32 days.
On (what I thought was at least) the 35th day we went to the vet by car. Phèdre felt unsure and didnt know what to think of the closed cage. When her complaint got no result, she lied herself down. Arriving at the practice we were right in line. Unfortunately my vet was absent. His replacement did not consider herself able to estimate more accurately than about one week. That didn't help me much. I thanked her for her time and I went home again empty-handed.
There now was nothing more I could do than ask my employer for two weeks off instead of the planned one week. I don't want to take risks and certainly not now because this was Phèdre's first litter. In late June the kittens are expected. We will report of it in the next issue.